Emissions in Finland's emissions trading sector increased by 0.7 million tonnes in 2021
Total emissions of Finnish installations within the scope of the EU's emissions trading system were 20.3 million tonnes of carbon dioxide in 2021. Emissions increased by 3.8 per cent from 2020.
The consumption of natural gas decreased by 1.0 per cent from the previous year (calculated as the volume of energy). The consumption of peat decreased by 13.6 per cent and that of coal increased by 13.9 per cent from the previous year. The increased consumption of coal resulted, among other factors, from the colder weather than in the year before and the high market price of natural gas. The consumption of renewable fuels that meet the sustainability criteria increased by 13.6 per cent from the previous year's level.

The development of emissions is affected by variations in demand for heating energy due to weather and the Nordic water balance, which has a specific impact on the spot price of electricity and therefore also on demand for separate production.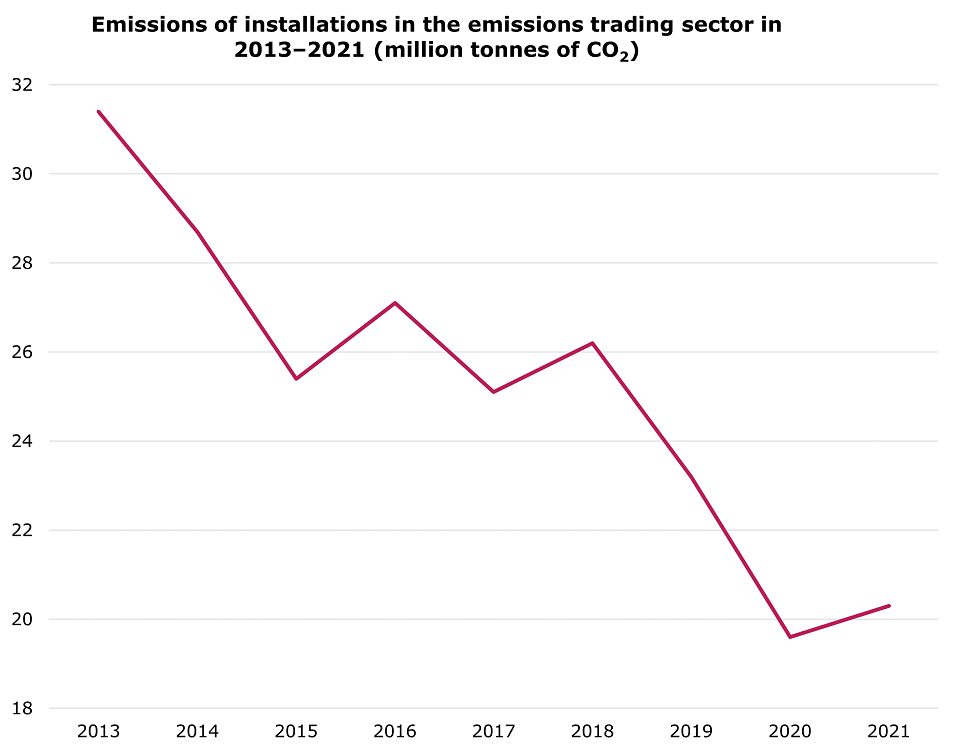 All companies within the scope of application of the emissions trading act must report the previous year's verified carbon dioxide emissions of their installations to the Union's register by 31 March. In 2021, a total of 513 out of 514 installations reported their emissions by the deadline.

Further information: Tuulia Lepistö, Director, tel. +358 29 5050 041, and Simo Nurmi, Director General, tel. +358 29 5050 011, email format: [email protected]

Development of emissions in 2013–2021, statistics in Finnish